Express Dry Carpet Cleaning
Our company is based in Rockville, Maryland and serves both Montgomery and Howard County, Maryland along with the Greater Washington D.C Metropolitan Area.
We have been operating for over 20 years and our mission has become simple and clear:
Provide Superior Performance and Outstanding Customer Service Before, During and After Our Job Is Complete.
All of our personell has extensive experience accompanied with very thurough training to ensure their work meets the quality that has become expected from Express Dry Carpet Cleaning.
Air Duct Cleaning Services
Why You Should Get Residential Ductwork Cleaned annually
The main reason why residential homes should have their ducts cleaned is because they accumulate dust! This accumulation can be the cause of a multitude of problems, including an increased need for dusting, poor heating and cooling performance, and musty odors through your home. While normal, repeated cycling of dust in a home can increase the need for air duct cleaning, other factors may push the air duct cleaning timetable forward even more, including: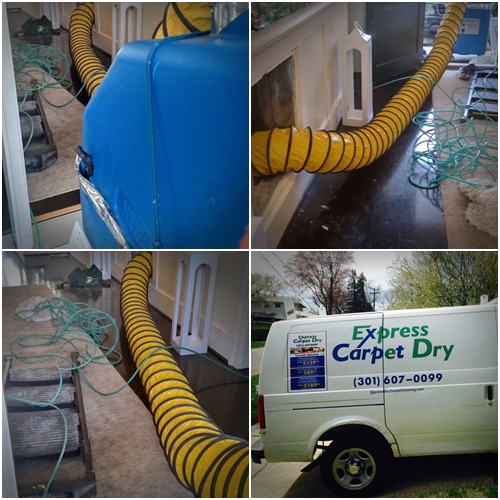 How To Inspect your Home's Air Duct Vents
One of the most popular questions our customers ask when they begin researching the air duct cleaning process is how to determine whether the vents need cleaning. There are very simple ways to do this: using a screwdriver, remove a floor or wall register. With a mirror and flashlight, observe the condition of the ductwork. If you see that the vent contains any visible dust or debris, it is time to get the ducts taken care of. This process can also be done with a digital camera.
Post-Cleaning Maintenance
There are a few things that you can do to maintain the cleanliness and efficiency of your HVAC system: Get good filters—ask your contractor for a recommendation. Clean/change the filters as needed (at least every two months) Even with properly air duct cleaning and changing quality filters, the HVAC system will still become dirty over time. Have your system inspected every two years to determine whether your system needs to be cleaned again.
Our Cleaning Process
We inspect the carpet, air duct system, or uphostery, assessing any stains, spots, dirt, dust, or grime, and inform you of what results to expect from the cleaning.